NEWCASTLE PLAYERS CLUB LOGIN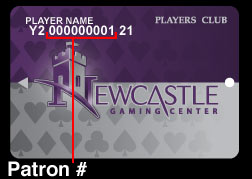 WIN/LOSS STATEMENTS
PLEASE NOTE: Currently, the Newcastle Players Club can only be joined inside Newcastle Casino at one of our many Players Clubs.
Current Passport Card Members: Please enter your Patron and Pin numbers below to pull your patron info.
For the safety and security of personal information, patron PIN numbers can only be reset in person by visiting a Players Club at Newcastle Casino.